Over a three year period we worked with the owner, Zurich Switzerland based architect and Marin County based architect, general contractor and other subcontractors through a Design Assist and Furnish /Install process on Floating Dreams.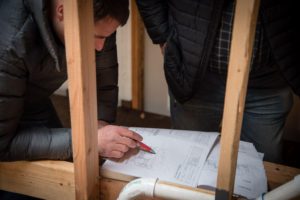 This unique project in Sausalito, California is featured in a dwell article published in the May/June print issue of Dwell and available online.  We were fortunate enough to work with an amazing team.
Link to the Dwell Article:
Water Sports by Deborah Bishop – https://www.dwell.com/article/water-sports-2d7606d5
Floating Dreams Design Team:  
Dan Hunter, AIA, Marin County, California
Christof Glaus, Stucheli Architekten. Zurich, Switzerland
General Contractor:
Sausalito Construction, Marin County, California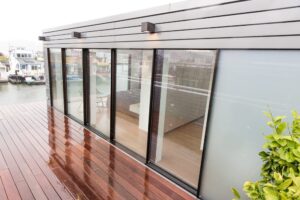 Floating Dreams Sky-Frame, Frameless Sliding Door
A number of Old Town Glass suppliers were involved during design, pre-construction, and construction.  This collaborative effort helped ensure the owner's requirements were met and the design goals were achieved.  Fenestration systems and division 8 products in Floating Dreams are from manufacturers across North America and Europe.
The doors and windows are all Sky-Frame  – "A View, Not a Window" from Switzerland. Zahner created a unique image replicating the original houseboat this one replaced.  The image was digitally printed on glass by Agnora using their Dip Tech.  The printed glass was made into an insulated unit that Old Town Glass installed into a Sky-Frame frame.  This custom printed glass provides a sidelite next to the entry door.
Base shoe from CRL was used to support 27/32″ tempered laminated glass incorporating Kurary's SGP interlayer.  Utilizing 3/8″ over 3/8″ tempered laminated allowed elimination of a cap on the glass guardrail.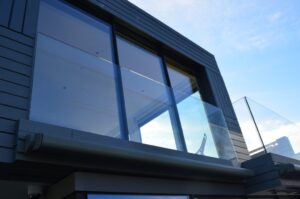 A combination of hardware from CRL, Hawa AG, KL Megla, FSB, and a local custom stainless steel fabricator was used for the interior glass and shower glass enclosures.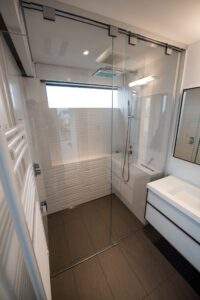 Custom Shower using 3/8″ Low Iron Glass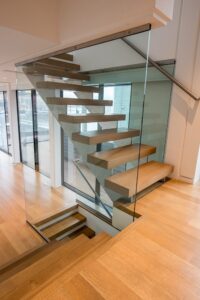 Prosoco's Fast Flash and CAT5 products were used on the building envelope and for window and door installation.  One of the most unique aspects of the installation was installing the fenestration and glass while the home was floating.  No lasers or levels could be used as the hull was constantly moving and shifting.
The below photos highlight the journey of the project.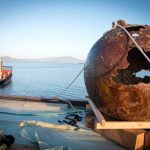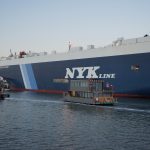 Scale: Houseboat vs a Car Carrier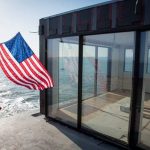 Sky-Frame prior to siding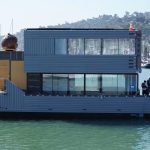 A Floating Home in Transit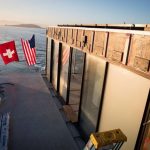 Floating Dreams approaching her berth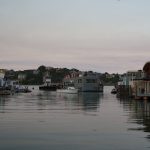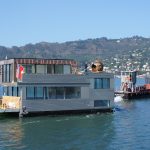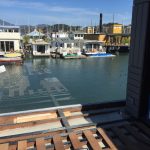 Glass Railing on Floating Home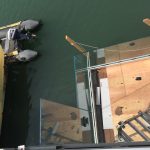 Looking down at the glass railing below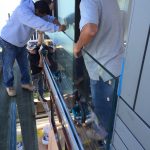 Old Town Glass Crew Installing a Glass Deck Railing in Sausalito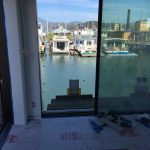 Starphire Tempered Laminated Glass Railing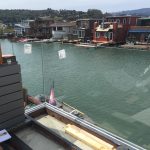 Structural Glass Railing with Sentry Interlayer and Starphire Glass